Eco-Gen H Back Up Power Fuel Cell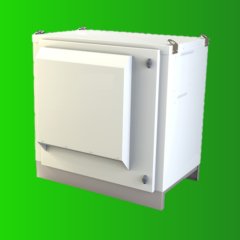 Item: FC-Eco-Gen-H
Eco-$mart Price: Quoted
Wireless Base Stations

Secure Communications Networks (TETRA)

Wireline Remote Terminals

Broadband

Telecom Rooftop Installation
The Eco-Gen H System is a backup power fuel cell system, available in 2.5 kW and 5 kW configurations. These systems provide reliable backup power for telecommunications applications. Eco-Gen H System operates on hydrogen, providing a clean technology with zero emissions and low environmental impact.
The Eco-Gen H Systems utilize advanced proton exchange membrane (PEM) technology and are designed for critical backup power applications where performance, low maintenance and long service life are required. These products have lower lifecycle costs compared to high maintenance batteries and diesel generators.
ADVANTAGES:
Extended Run Options – Hot swappable hydrogen. Advanced Technology – Utilizes commercially proven Proton Exchange Membrane (PEM) technology. Compact and Lightweight – Compact and lighter than comparable battery system. Reliable System – Dependable performance over a wide range of temperatures: -5ēC to +45ēC. Scalable Systems – 5 kW modules provide up to 15 kW power output. Low Maintenance – Lower life cycle costs compared to higher maintenance diesel and propane generators. Clean Technology – Zero emissions and significantly lower environmental impact than both generators and batteries.
Specifications
Power Rating:
• 2.5 kW • 5 kW
Nominal Voltage:
• 48 Vdc
Voltage Adjustable 44 to 57 Vdc
Dimensions ( WxDxH ):
108.cm x 92 cm x 125 cm (43 x 36 x 44 in.)
Enclosure Material
Aluminum
Weight:
158 kg (349 lbs)
Communications:
Dry relays and RS-232