Intelligent In-Room Thermostat/Humidistat is designed specifically for the hospitality industry. The intuitive touch screen is simple and easy to use and seamlessly connects with your existing HVAC infrastructure. Designed for immediate deployment, installation is a snap and can easily be performed during high occupancy. An "Info" button on the screen displays up to 10 customizeable pages of property or corporate specific advertisement, promotions, and guest room information.
Features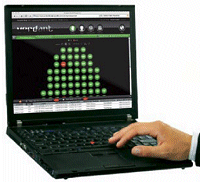 Controls humidity to reduce mold and mildew growth and remove musty odors.

Built-in occupancy sensor uses a fusion of 2 sensing technologies, motion and thermal, to ensure 100% accurate occupancy detection.

The software's "fuzzy logic", anticipates your guest's needs, keeping them comfortable while eliminating wasteful HVAC operation.

An inherently secure, wireless frequency-hopping communication system ensures interference-free data transmission.

Robust, wireless network delivers always-on reliability. Instant data rerouting eliminates any downtime. The system adapts well to additional rooms and properties, with the ability to grow with your business.

A comprehensive web-enabled software management option allows monitoring, control, and adjustment of each IQ Thermostat. Complete statistical reporting, including energy savings data, is only a click away.

Simple and intuitive, the ADA compliant touch-screen is a breeze to use for you, your staff and your guests. A touch of a finger allows guests to quickly adjust the temperature in precise, 1 degree increments.