WIND-PACT Plus Commercial Impact Windows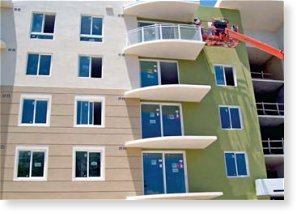 WIND-PACT Plus Commercial Impact Windows are energy efficient and engineered to meet high design pressures, making them the ultimate choice for green buildings. Frames are constructed from heavy-duty vinyl for superior strength and durability. Corners are fully welded for the best protection from air and water infiltration.
Window designs have been tested for Florida Product Approvals in both impact and non-impact configurations. The windows are offered in horizontal rollers with limited travel, fixed lites, or divided fixed lites, with a variety of grid patterns and colors to meet many architectural specifications.
When ordered with LoE glass, windows will carry the Energy Star® label. The year-round benefits of LoE can be clearly seen. When the temperature soars in the summer, ordinary window glass just can't beat the heat and tinted glass spoils the view. LoE is formulated to reject solar heat while maintaining attractive visibility.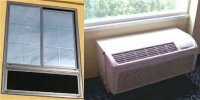 WIND-PACT Vinyl windows offer the perfect glazing solution for PTAC installations.
Click Here


Frame is constructed from heavy-duty PVC 16 multichambers for superior strength, durability, and energy efficiency.
Cardinal LoE³-366 Glass reduces window heat gain by 64% compared to ordinary glass.